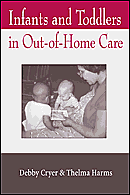 Infants and Toddlers in Out-of-Home Care
Edited by Debby Cryer and Thelma Harms
2000, Paul H. Brookes Publishing Co.
Paperback, 400 pages, ISBN 1557664579
As more working families are placing their infants and toddlers in out-of-home care, the need for well-founded practices in child care and early intervention becomes more urgent. Finally — from leading authorities in the field — this thorough and research-based text gives you all the critical information you need to develop the best out-of-home care for infants in their first three years. You'll explore a range of quality child care issues, such as
common health risks to children in out-of-home care facilities
increasing cognitive, linguistic, and social development in the first three years
characteristics of successful infant/toddler and early intervention programs
cultural context of infant and toddler care
changing family/work demographics
federal and state roles in infant/toddler out-of-home care
You'll get specific recommendations for policy, practice, training, and future research in the field of early child care and education, as well as loads of startling statistics on the quality and prevalence of out-of-home care. Discover how to give children optimum out-of-home care — order this essential text today! This book was developed through work at the National Center for Early Development and Learning. Visit the Center's web site for more information on the transition to kindergarten, a free online magazine, policy briefs, fact sheets, and more.
Available from various booksellers.