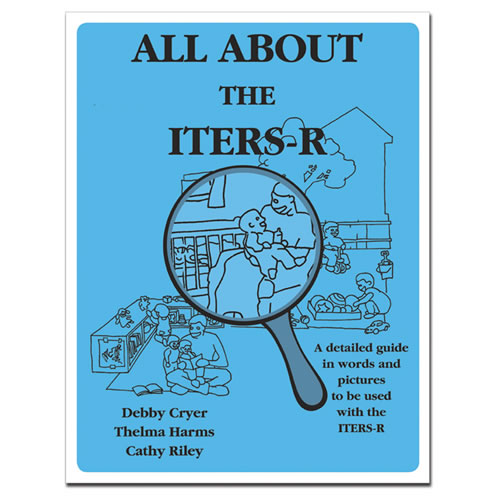 All About the ITERS-R
A detailed guide in words and pictures to be used with the ITERS-R
By Debby Cryer, Thelma Harms and Cathy Riley
2004, Kaplan Early Learning Company
Paperback
ISBN 0-88076-615-8
 All About the ITERS-R is a resource guide to be used with the ITERS-R that gives important information on:
why each item is important;
what is needed to meet the requirements of each item; and
how to score
With increased use of the ITERS-R has come great variation in interpretation of the scale's requirements, so that scores across observers do not mean the same thing. All About the ITERS-R provides the information needed for accurate and stable interpretation of the scale.
The book can be used to ensure accurate ITERS-R assessment by:
early childhood practitioners, to improve classroom quality;
technical assistance staff, wanting to provide guidance to practitioners;
licensing staff, who need to evaluate the quality of a program; and
researchers, who need to use the scale correctly and reliably.
The format of the book is organized to match the format of the ITERS-R, by subscale, item and indicator. It gives clear, print explanations of how each indicator within each item is to be interpreted. More than 800 color photographs of real-world settings, with captions, illustrate the text.
Order directly by calling Kaplan at 800-334-2014, or faxing at 800-452-7526.